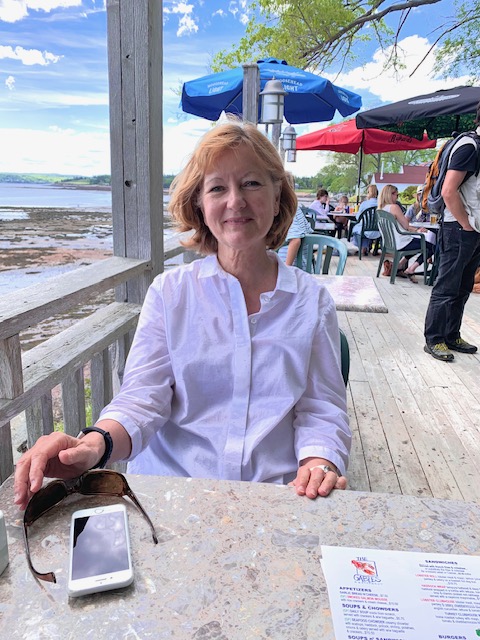 St. Andrew's N.B. June 16th, 2019

Our CSCP Remembrance of Carole Hamilton, Cardiovascular Perfusionist, Griesstaett, GermanyPerhaps some of the CSCP membership may not have heard the more than sad news of late? The sands of life, in Carole Hamiltons hourglass, has, rather untimely, run out! Our dear friend and colleague, Carole Hamilton, passed away in her hometown of Griesstaett, Germany, this past Friday, November 10th. In speaking to her husband, Klaus shortly thereafter, the last several weeks had not been easy ones either for his Carole nor for Klaus. In reference to Carole's memorial arrangements, her husband, Klaus, will be, later, arranging a Celebration of Carole's Life which will be reflective of Carole's expressed wishes. Throughout her illness, Carole kept her inquisitive mind going until shortly before her passing- we were always in conversation about others with whom she had worked, and had known, over her many past years of committed cardiac patient care involvement!
Carole had started her career in Respiratory Therapy in 1973, in Toronto, Ontario. In 1977 Carole then joined our noble profession having enrolled and then graduated from, the then, Toronto Institute of Medical Technology in 1978 and had worked within the Toronto General Hospital for several years, with many of our present and former Perfusion colleagues and friends. Carole's next professional move would cause her to explore new career opportunities within Cardiac Hospitals in both Vienna, Austria and throughout Germany prior to her retirement.
In our thinking of you Carole, we your caring Canadian friends and colleagues, will most certainly more than just miss you - we will remember you because of your singular and demonstrated professional pride in what you did and in what you had accomplished - your never forgetting your initial Canadian roots, nor your many friends - in your annual presentations at our CSCP meeting over these many past years - your special smile - your genuinely expressed caring for your colleagues and friends, especially, your caring hugs when our seeing you for the first time in awhile. Carole, you were always the consummate professional both within Canada and certainly, over your extensive Perfusion career within Europe, and particularity, prior to your retirement, your specific and singular cardiac team commitment to your paediatric patients, as the Chief Cardiovascular Perfusionist, at The Schoen Children's Hospital Clinic, Vogtareuth, Germany, Life Systems!
As referred, after her leaving Canada, Carole continued her ongoing professional involvement specifically within The European Board Of Cardiovascular Perfusion (EBCP) i.e, the EBCP Organizing Committee, etc. Her ongoing commitment would not go unnoticed by either her Canadian nor her European Perfusion colleagues! In that remembrance, Dr. Denise Marin, a Paediatric Cardiac Surgeon within The Vogtareuth Clinic, who had worked and published, extensively, with Carole will notified The EBCP in regards Carole's recent passing - a remembrance as well as a testament to Carole's having continued her ongoing commitment and essential role within the Cardiac domain of her pivotal European experience.
You will be missed Carole Hamilton - as you will, ALWAYS, remain as our devoted and caring friend and colleague; warmly remembered, Jim Mac Donald"……the extracorporeal journey continues…